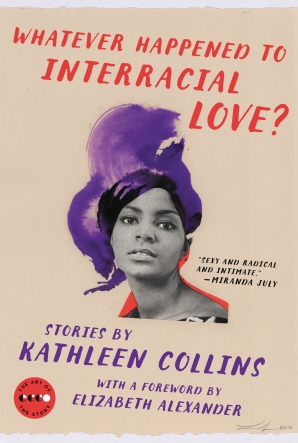 In the mood to read a collection of short stories rather than read a full-length novel, book of essays or work of non-fiction, I chanced upon Kathleen Collins' small volume of stories Whatever Happened to Interracial Love at my local library. The book I held my hand was small and I figured it wouldn't take much time to read it and therefore, I could quickly churn out another review in a short amount of time.
And yes, it didn't take me long to read Collins work, only a few days given my personal and professional schedule. However, it did take me time to digest each and every story, which is probably why it took me some time to write this review. I found each of the stories invading my bloodstream and taking up space in my brain, heart and soul. Whatever Happened to Interracial Love made me look at some very thorny topics regarding race, gender, class, education, sex, money, and artistic expression. Sometimes reading is there just as entertainment, nothing wrong at that. But often reading is about learning and questioning the very society and culture we live in.
While reading Whatever Happened to Interracial Love I asked myself, "Just who is this Kathleen Collins? How come I never heard of her until I picked up her book?"
Kathleen Collins was born in 1942. She was educated at Skidmore and worked as a film maker and artist. Her film "Losing Ground" came out in 1982 focusing on the life of a black female professor navigating the shifty waters of academia and her marriage to a volatile, passionate artist who has his own demons to contend with. This forces the female protagonist to question her own choices and inspires her go on a journey to find her own version of ecstasy. This sounds like my kind of film and I can probably find it via the Internet for a nominal price.
However, it is Whatever Happened to Interracial Love that I must concentrate on, a book that was discovered recently and published last year, nearly 30 years Collins died of cancer.
It is 1963 in the title story and about two roommates living in New York City, one black, one white. The white roommate is a Sarah Lawrence graduate and works as a community organizer in Harlem. Her lover is a black poet. The other roommate is black and madly in love with a white Freedom Rider. She also spent time in jail while protesting down south.
Both roommates have to deal with the backlash of not quite fitting into the firm ideals of how they should conduct themselves as women and how their behavior might be unbecoming towards their separate race, and much of this comes from family members. They also find themselves questioning their choices both personally and politically.
Interracial love is also beautifully conveyed in "The Happy Family." In this story a white man becomes acquainted with a loving black family while attending a civil rights rally while attending a church. He can't help but be drawn to this particular family. His own family was severely dysfunctional and his new friends are kind, warm and inviting, everything his family is not. Plus, he is drawn to their intellectual ways and their commitment to social justice. He ends up falling in love one of the daughters and romance blooms between the young lovers. You can only hope that this romance will deepen and grow during a time of racial injustice and intricate family dynamics.
Getting below the surface and finding out the uncomfortable truth is the narrative of "The Uncle." In this story a young girl is absolutely besotted with her handsome uncle and beautiful aunt. They seem to have the perfect marriage, one this young girl hopes to have herself. But as she gets to know them more and more, she soon learns of something isn't quite right about the marriage, which makes them teeter on the pedestal she placed them upon.
So many stories in Whatever Happened to Interracial Love are linked by the themes of love, learning, questioning one's choices and the choices of others during the rich tapestry of the civil rights movement.
Collins stories are more character-driven than plot-driven, and each character is written so full of richness and depth that I felt I knew these characters. At times their experiences resonated with me and sometimes they were very foreign, but no matter what, they were always compelling. Often I wondered about them after I finished a chapter. What did the future hold for these people?
Whatever Happened to Interracial love shows rather than tells. Collins delivers these short stories in visual elements that are quite striking, which must be due to her experience as a film maker.
Whatever Happened to Interracial Love is another book that stayed with long after I finished it. And it saddens me Collins died long before her book was published and before she could bless us with more of her work both on celluloid and on the written page.